Sunglasses With Yellow Lenses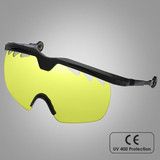 Sunglasses With Yellow Lenses
One pair of sunglasses designed to custom fit your T-Cap. 
Frames:
Made of lightweight and durable Polycarbonate and Nylon.
Lenses:
Yellow lenses are optimum for object definition. They make distant objects appear more distinct, increasing their contrast especially in snow or haze. These lenses are popular with skiers, hunters, boaters and pilots. Made with impact and scratch resistant Polycarbonate similar to the ones used for high quality sport sunglasses.

They offer 100% UV protection.
Reviews