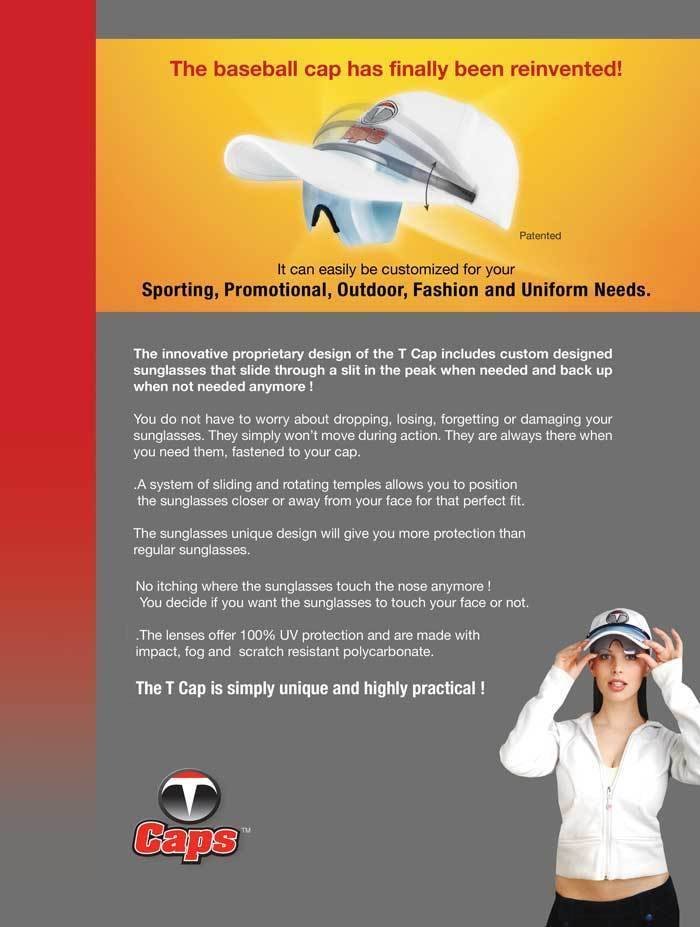 Years of research have been devoted to the development of the TCap.
The T Cap looks like a simple product. High technology along with numerous 3D designs were used to find the proper frame and lens angles so that the sunglasses could adapt to most faces. A unique hinge and sliding system has been designed to allow the user to adjust the lenses to his face for vision and protection comfort.
Only the highest quality materials have been used in the manufacturing process.
Frames : made of lightweight and durable Polycarbonate and Nylon.
Lenses : made with impact and scratch resistant Polycarbonate similar to the ones used for high quality sport sunglasses.
They offer 100% UV protection
Advertising/Promotional

There are few unique, new and original products to help you promote your company. T Caps exclusive design is the perfect choice to promote your business. Any part of the cap or sunglasses can easily display your own special message or logo, helping you reach a larger audience. The cap and sunglasses can be easily customized to your industry needs.

Uniforms
From industrial workers to military headgear, we tailor to your specific needs. The sunglasses sliding, rotating and fastening system make the T Cap the perfect safety gear. The sunglasses offer 100% UV protection and are made of solid, durable, scratch resistant polycarbonate. Perfect for any outdoor job.

TCaps is proud to announce that it has received the prestigious Univator award!
Sports
They are ideal for any sport when you need protection from the glares of the sun in order to stay concentrated. We fuse passion, design and quality materials to give you a high performance product. Losing or dropping your sunglasses is no longer an issue. The sunglasses are fastened to your cap, allowing you to stay focused on your activity. The T-cap is great for fishing, boating, hunting, playing golf, baseball, running, biking and any outdoor activity.

Fashion
When choice and style is what matters, we can design the ideal T Cap for you. Choose from a wide variety of caps and sunglasses all made of the highest quality materials or send us your own unique design and we will be glad to bring it to life. Fashion is usually about fashion … the T Cap is about adding function to fashion for a more complete experience.
T-Capsusa is an independent resaler and has no affiliation with the ownership of TCAPS Intl Ltd

The Tcap itself is Patented by TCAPS Intl Ltd
-All rights reserved by TCAPS Intl Ltd