Sunglasses With Polarized Lenses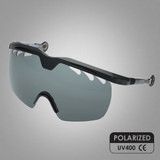 Sunglasses With Polarized Lenses
One pair of POLARIZED sunglasses designed to fit your TCap. 
Frames:
Made of lightweight and durable Polycarbonate and Nylon.
Lenses:
This is the POLARIZED model with grey lenses designed to reduce glare from surfaces such as water, snow, and glass. Glare distorts the true color of objects and makes them harder to distinguish. Polarized sunglasses can be useful for certain sports and driving, helping participants to see more clearly and avoid potential hazards. 
They offer 100% UV protection.
Reviews