Sunglasses With Blue Lenses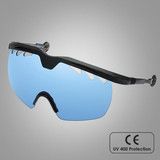 Sunglasses With Blue Lenses
One pair of sunglasses designed to fit your TCap.
Frames:
Made of lightweight and durable Polycarbonate and Nylon.
Lenses:
Blue lenses reduce glare and bright light. They tend to make everything look softer. Made with impact and scratch resistant Polycarbonate similar to the ones used for high quality sport sunglasses.

They offer 100% UV protection.
Reviews