4-Pack Evonell ECO Friendly Hightech Microfilament Multipurpose Cloths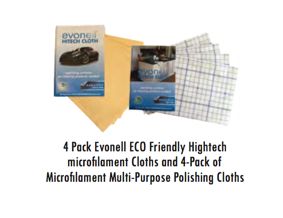 4-Pack Evonell ECO Friendly Hightech Microfilament Multipurpose Cloths
4- Pack Evonell ECO Friendly Hightech Microfilament Multipurpose (Blue & White) Cloths.

No chemicals needed for cleaning.
No Lint, No Spots, No Streaks

each cloth size is 22" X 19 2/3" 
Product Contains 70% Polyester & 30% Polyamide

Environmentally Friendly, For sensitive surfaces, No fiber release, UV Protection, Thermal Insulation, Anti-Mite, Fast Drying, Breathable, Strong and Non-Directional, Absorb up to 400% of it's own weight in liquid, Unsurpassed Polishing Power.

Reviews